Lead time 4-5 weeks if plain, 5 weeks if stamped.
Price shown is the Base Price without extra cost options. *
*Two Tone is available at no charge. Select the body color from the drop down "color options list." Then select the "tab" color.

***NOTE: We cannot make the HF1 or HF2 for some small 9mm and .380 caliber pistols because of their small size such as the Sig P238, P938, Kahr PM9/40/45 and other similar pistols. We recommend the Pancake holster for those pistols.**
The most common purpose of an HF2 holster is when carrying three different lengths of 1911-style pistols - 5", 4 or 4-1/4" or 3 or 3.5" barrel lengths.
(Some customers order the HF2 just because they like the look of that style.)
HF 2 Video Review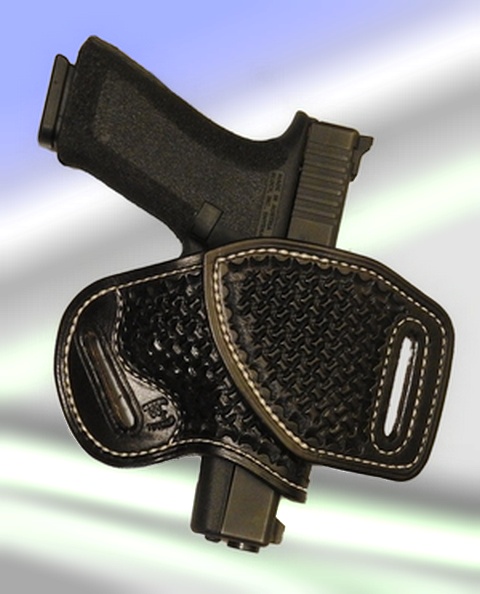 The HF2 Open Muzzle Design allows you to use several slide lengths in the same holster without catching the front sight on the draw. Best with ramp front sights. Usually for 1911's, Glocks and XD's.

The holster rides at a 13 degree forward cant angle on your belt.
***NOTE: We cannot make the HF1 or HF2 for .380 caliber pistols or small 9mm pistols such as the Sig P-938 or Ruger LC9.
We cannot scale it down that far. Ask if you're uncertain.

The HF2 combines the best features of two different designs. It rides like a pancake and stays open for life like a "tunnel and loop" design.

The visible overflap provides the front belt slot to bring the holster in close and keep it secure. The cant angle is perfect for most people and the holster comes ready to use with very little break in.

Retention is very good so no thumbreak is required unless it's just personal preference or department mandate.
The compact size wasn't designed for small pistols; it was designed to carry several lengths of the same pistol.
Mounting the HF-style Holster on the belt.
Note - HF1 vs. HF2:
The HF1 is made to the length of a specific pistol. It's still open at the bottom, but the holster tapers down to the opening and will not allow the muzzle through.
The HF2 is made for several lengths of the same pistol (usually 1911-style or 9mm/40 caliber Glocks). It is open and flared so the front sight doesn't catch when you draw the pistol.
Some customers just like the look of the HF2 with the slide sticking out the bottom even though they do not have several lengths of the same pistol.
Both ride at the same height and cant angle.*
NOTE: Holster is pictured with extra cost options. ($105 buys a plain, unlined, unstamped HF2 without a concho.)
(Each full stamp includes its own border stamp. No need to order a border stamp with a full stamp.)
Accessory Rail: We're asking if your pistol has an accessory rail or not. Most new pistols do have accessory rails for mounting lights or lasers. We're not asking if you have a light or laser mounted on the rail. (1911's come with or without, as do some other pistols, so that's why we're asking.) Front Sight Style: If your front sight came on the gun from the factory it's "standard." Most night sights are also "standard". If you added a taller front sight, if it's a "fiber optic" front sight or it you just know it's a tall front sight select "Extra Tall."